Please join us Tuesday (10/4/22) to hear Dr. Gabriel Sanchez discuss the analysis of the 2021 New Mexico Redistricting Process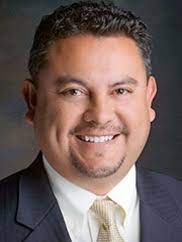 Fair Districts for New Mexico and New Mexico First will host a virtual public meeting on October 4 at 9:00am to present and discuss the newly released report, "New Mexico Redistricting Evaluation" (see links at bottom), written in collaboration with Redistricting Partners, a redistricting and research contractor out of Sacramento, California.
Dr. Gabriel Sanchez is a professor at the UNM Department of Political Science, as well as the Robert Wood Johnson Foundation Chair in Health Policy and Executive Director at the UNM Center for Social Policy. He is a Rubenstein Fellow at the Brookings Institution, and Co-Founder, UNM Native American Budget and Policy Institute. Dr. Sanchez will present his findings and answer questions. The public is encouraged to attend.
Dr. David Cottrell is an Assistant Professor in the Department of Political Science. He earned his B.A. in Political Science from the University of California at Davis and his Ph.D. in Political Science from the University of Michigan. Before joining the faculty at UGA he completed a postdoctoral fellowship in the Program in Quantitative Social Science at Dartmouth College, where he subsequently served as a lecturer in quantitative methods for the Department of Government. His research uses empirical and computational methods to explore how rules and procedures distort representation in the United States. Dr. Cottrell was a major contributor to the "New Mexico Redistricting 2021 Evaluation".
Time: Oct 4, 2022 09:00 AM Mountain Time (US and Canada)
Join Zoom Meeting
https://nmfirst-org.zoom.us/j/81565682858
Meeting ID: 815 6568 2858
One tap mobile
+17209289299,,81565682858# US
Dial by your location
US: +17209289299,,81565682858#
Meeting ID: 815 6568 2858
Find your local number: https://nmfirst-org.zoom.us/u/kbVaGuAJCr


NM First, NCSL, Thornburg Foundation Media Briefing
Let Redistricting Committee Do Its Job
June 28, 2021: Let redistricting committee do its job By: Dick Mason
All Citizen Redistricting Committee appointments have been made
See this document: CRCappointments.docx.
Fair Districts for NM is issuing the following statement:
Fair Districts for NM (FDNM), a broad coalition of 26 New Mexico organizations, looks forward to working with the Citizen Redistricting Committee (CRC) to continue to assure that the redistricting process is fair, transparent and equitable..
FDNM is concerned about the lack of cultural and geographic representation on the CRC. We suggest that the CRC address this issue in their work plan.
New Mexico Redistricting Reform gets National Coverage
The Hill: New Mexico legislature advancing bipartisan redistricting reform.
HJR9 Independent Redistricting Commission introduced
What it does: read our summary of HJR9.
What you can do: Call key legislators and ask them to support HJR9.
Link to the bill: HJR9 — Independent Redistricting CA.
Moving toward a redistricting constitutional amendment
FDNM Public Meeting 1/4/2022, "The Constitutional Amendment for an Independent Redistricting Commission in New Mexico": Zoom recording (use passcode YjrB2e@E).
Resources for Research: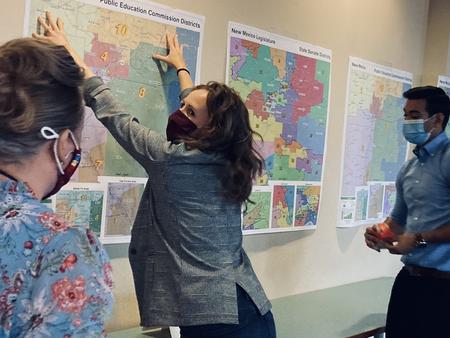 CRC Selects Maps to Send to Legislature
The Citizen Redistricting Committee has selected their maps to send to the Legislature. You can find them here: CRC Adopted Maps. These maps have been sent to Dr. Cottrell at the University of Georgia for evaluation for partisan fairness and other criteria. We expect those results back within 7 days.

Dr. Cottrell to Evaluate CRC Maps
We expect the CRC to meet on October 29th to review the evaluations from Dr. Cottrell at the University of Georgia and to add the CRC explanations for why they adopted each map. Read the full details of what Dr. Cottrell will be evaluating.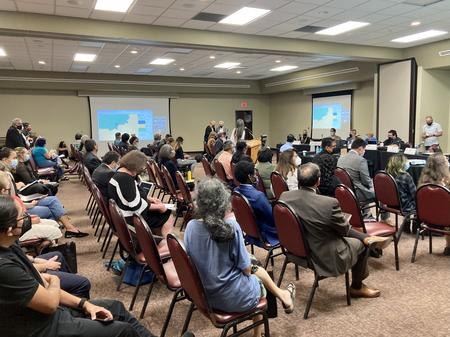 Second Round of CRC Public Meetings
Second round of public meetings of the Citizen Redistricting Committeeare set for September 28 - October 8. They will receive input on the proposed concept maps.
See the meeting schedule here: CRC Public Meetings.
New Mexico Legislative Redistricting Page. Great historical info including 2012 maps. Also links to current action.

Want to submit your own redistricting for New Mexico?
The portal for public input will remain open all the way through the Legislative Special Session on Redistricting.
NM's Citizen Redistricting Committee
See Gallery of Submitted Maps/Comments
Draw/Submit Your Own Maps/Comments
Get Help Drawing Maps with Districtr
There are ongoing trainings on how to create maps and Communities of Interest (COIs) and how to otherwise make your voice heard to the Citizen Redistricting Committee.
The MGGG Lab at Tufts University has been contracted to provide the New Mexico public with the tools to develop its own maps with the Districtr program.
Want to draw and submit your own New Mexico redistricting maps? Join mapping experts for a training on how to do so in English or Spanish throughout the months of August and September. Details and schedule here
You can also learn lots more about the redistricting process and the Citizen Redistricting Committee by visiting the link here
Read about details of the software (PDF).
Want to know more about the Tufts Lab and redistricting? Politico Magazine: Is Gerrymandering About to Become More Difficult?
Let's Get It Done
3/12/21: Independent redistricting still alive: let's get it done. by: Santa Fe New Mexican Editorial Board
First Citizen Redistricting Committee Meeting
Friday, July 2, 2021, 3:00 p.m. – 5:00 p.m MDT.
Location: Virtually via Zoom.
Watch the webcast on sliq.net,
or join via Zoom:
Zoom link
Meeting ID: 859 3072 6465
Dial-in Number: (669) 900-9128
Passcode: 430850
Link to meeting materials: 7-2-2021-CRC-Meeting-Materials.pdf.
More information on the Citizen Redistricting Committee.
Video: Redistricting in New Mexico
Credits: voice Rod Kennedy.
Comparison of Redistricting Bills in the 2021 Session
Redistricting Legislative Advocacy 2021
Read the House Redistricting Act HB211 here. The Senate Redistricting Act, being filed this week, is identical.
Read the Fact Sheet on the House Redistricting Act here.
Read the Fact Sheet on the Senate Redistricting Act here.
Tracking of NM Senate Support for Fair Redistricting: Your help sought to contact and persuade New Mexico Senators. Please contact us at fairdistricts@lwvnm.org with any feedback you can share with us.
Legislators' responses to redistricting questions by region. These are combined answers from various surveys and the questions were posed differently: