Please join us Tuesday (10/4) to hear Dr. Gabriel Sanchez discuss the analysis of the 2021 New Mexico Redistricting Process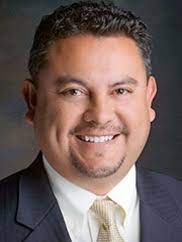 Fair Districts for New Mexico and New Mexico First will host a virtual public meeting on October 4 at 9:00am to present and discuss the newly released report, "New Mexico Redistricting Evaluation" (see links at bottom), written in collaboration with Redistricting Partners, a redistricting and research contractor out of Sacramento, California.
Dr. Gabriel Sanchez is a professor at the UNM Department of Political Science, as well as the Robert Wood Johnson Foundation Chair in Health Policy and Executive Director at the UNM Center for Social Policy. He is a Rubenstein Fellow at the Brookings Institution, and Co-Founder, UNM Native American Budget and Policy Institute. Dr. Sanchez will present his findings and answer questions. The public is encouraged to attend.
Dr. David Cottrell is an Assistant Professor in the Department of Political Science. He earned his B.A. in Political Science from the University of California at Davis and his Ph.D. in Political Science from the University of Michigan. Before joining the faculty at UGA he completed a postdoctoral fellowship in the Program in Quantitative Social Science at Dartmouth College, where he subsequently served as a lecturer in quantitative methods for the Department of Government. His research uses empirical and computational methods to explore how rules and procedures distort representation in the United States. Dr. Cottrell was a major contributor to the "New Mexico Redistricting 2021 Evaluation".
Time: Oct 4, 2022 09:00 AM Mountain Time (US and Canada)
Join Zoom Meeting
https://nmfirst-org.zoom.us/j/81565682858
Meeting ID: 815 6568 2858
One tap mobile
+17209289299,,81565682858# US
Dial by your location
US: +17209289299,,81565682858#
Meeting ID: 815 6568 2858
Find your local number: https://nmfirst-org.zoom.us/u/kbVaGuAJCr


New Mexico Redistricting Evaluation Report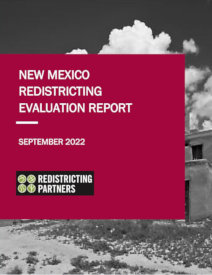 See the full New Mexico Redistricting Evaluation here (9.7Mb)
See the New Mexico Redistricting Evaluation Executive Summary here
See the detailed Press Release for the Evaluation here

New Video
A 90 Second Video to Promote an Independent Redistricting Commission.
Redistricting Surveys Sent
Fair Districts has sent a survey to each NM House candidate, NM statewide candidate, and incumbent NM State Senator for their input on redistricting. Please encourage your elected officials and the candidates to complete their survey today. They will find it in their inbox or may contact us at faidistricts@lwvnm.org for a link. Thank you for your advocacy!
Secretary of State's list of candidates.
Past Survey of 2022 Primary Candidates for New Mexico House - Responses of winners.
Platforms on Redistricting Reform
Fair Districts for New Mexico is nonpartisan, but we remind New Mexico Democratic policymakers and candidates that their Democratic Party of New Mexico State Platform 2022 plank on redistricting states: "We will advocate for a constitutional amendment to end gerrymandering by creating and giving authority to an independent non-partisan redistricting commission that includes diverse membership, specifically including Native American representation and participation. This commission shall be separate from the legislative process to prevent the drawing of political boundaries favoring one party over another or favoring incumbents."
Green Party National Platform: Nonpartisan redistricting: Establish independent and transparent non-partisan redistricting processes to stop partisan gerrymandering and protect minority rights and representation.
Libertarian Party National Platform on Representative Government:We oppose laws that effectively exclude alternative candidates and parties, deny ballot access, gerrymander districts, or deny the voters their right to consider all alternatives.
To our knowledge the Republican Party does not have a platform plank on redistricting.
Update to Fair Districts NM (FDNM) Partners - June 7, 2022
Things are still progressing on our end!
Here are some things happening:
1. The New Mexico First Redistricting Task Force has reconvened and will be making their recommendations by late June.
2. Dr Gabe Sanchez of the UNM Center for Social Policy is doing an evaluation of the 2021 redistricting process in New Mexico. We expect to have the results soon.
3. FDNM has contracted to have a short animated film made to illustrate the need for an independent redistricting commission.
4. The interim Courts, Corrections & Justice Legislative Committee has redistricting on the agenda for the fall. Senate Rules, the only standing committee authorized to meet in the interim, expects to hear voting and election bills, including redistricting.
5. We will be conducting a redistricting survey of the House primary winners. We will also be surveying state senators and candidates for statewide offices.
6. We have two new FDNM partners: Veterans and Military Families Caucus DPNM and America Votes of NM
7. Representative Natalie Figueroa plans to file an updated version of HJR9 – Independent Redistricting Commission.
8. We had two calls with activists in Colorado about their experience passing a constitutional amendment to create an independent redistricting commission and how that commission performed.
If you meet with any candidates or state senators, please ask them to commit to supporting a constitutional amendment that will create an independent redistricting commission.
Watch for a FDNM meeting via Zoom in late June, please.
Thank you all for your helping get this far and your commitment to a constitutional amendment to create an independent redistricting commission.
Want to know your new districts?
The Secretary of State has maps for the new Congressional districts. The sidebar on the left has links to the New Mexico Senate, House and Public Education districts.
The League of Women Voters of New Mexico also has updated NM District Maps.
Building Towards a Truly Independent Redistricting Commission
On February 9, 2022, HJR9 Constitutional Amendment for an Independent Redistricting Commission passed House Government, Elections and Indian Affairs committee on a 5-4 vote. We want to thank Chairwoman Georgene Louis, Representatives Daymon Ely, Doreen Gallegos, Wonda Johnson and Kristina Ortez for voting in support of fair and transparent redistricting.
Given the lateness in the session and the heavy load of legislation remaining we did not expect HJR9 to receive its next hearing which would have been House Judiciary. Our goals in this session were to get HJR9 passed in at least one committee and to get a read on what legislators liked and did not like in the resolution. With your help we accomplished those goals.
We want to thank our dedicated sponsor Representative Natalie Figueroa for working so diligently to get the bill drafted and introduced with Representative Ely's help, and for her skillful presentations to the committee. The Representative has let us know she is with us going into the 2023 session.
Judge Roderick Kennedy, Jeremy Farris of the New Mexico State Ethics Commission and Heather Balas of the Election Reformers Network provided expert testimony at the committee hearings. I want to express the LWVNM's deepest gratitude to Justice Edward Chavez who helped bring us here with his dedication to the New Mexico First Redistricting Task Force and the Citizen Redistricting Committee. He also helped draft the original language of HJR9.
Fair Districts for New Mexico will be working with New Mexico First as they reconvene the Redistricting Task Force that was key in developing the principles that resulted in the passage of the 2021 Redistricting Act.
2022 HJR9 Independent Redistricting Commission
What it does: read our summary of HJR9 Committee substitute.
Link to the bill: HJR9 — Independent Redistricting CA Committee substitute
Moving toward a redistricting constitutional amendment
FDNM Public Meeting 1/4/2022, "The Constitutional Amendment for an Independent Redistricting Commission in New Mexico": Zoom recording (use passcode YjrB2e@E).
Resources for Research:
New Mexico 2021 Special Session on Redistricting
Fair Districts For New Mexico (FDNM) Summary of the Redistricting Session.
New Mexico In Depth Article on Redistricting
Pueblo map seeks to spread power, but Republicans fear loss of New Mexico House seat.
Citizen Redistricting Committee Documents & Resources
Citizen Redistricting Committee Final Report
Citizen Redistricting Committee Adopted District Maps
Advocates laud state's new approach to decennial redistricting processing, By Robert Nott
Article in the Santa Fe New Mexican: First glimpse of proposed New Mexico redistricting maps shows many options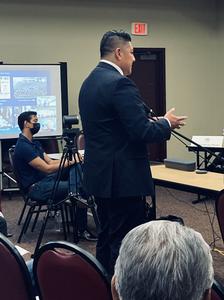 All Pueblo Council of Governors Redistricting Presentation, 8/14/21
Casey Douma of Laguna Pueblo, co-chair of the All Pueblo Council of Governors' redistricting committee addressed the Citizen Redistricting Committee on August 14 at the Albuquerque Indian Pueblo Cultural Center. We share Mr. Douma's informative presentation here.

Watch the Princeton Gerrymandering Project Training Sessions
The Princeton Gerrymandering Project is providing 5 trainings on redistricting for the Citizen Redistricting Committee; As they are completed they will be posted on the Princeton website. Watch them there: New Mexico Redistricting Trainings.
Redistricting Webinar: People Powered Fair Maps
April 29, 2021:
In a webinar on redistricting, Justice Chavez gave a brief summary of the Citizen Redistricting Committee created by SB304. Peter Wattson discussed other states with similar redistricting models, and gave advice on what we can do to prepare even before the CRC starts.
Documents for the webinar:
New Mexico First's 2021 Redistricting Task Force
Redistricting Rock Stars Video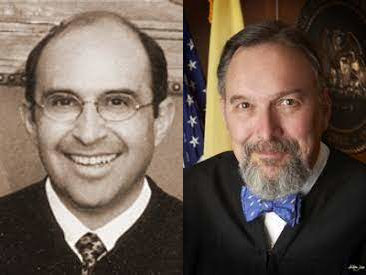 Recording of the Webinar Redistricting Rock Stars, Tuesday, January 12, 6:30pm.
See FDNM with Redistricting Task Force Chairmen former NM Supreme Court Justice Edward Chavez and former NM Appeals Court Judge Roderick Kennedy as we discuss how the Chairmen foresee the Task Force's findings affecting redistricting reform at the legislative session. We also discuss the Redistricting Act, the Senate bill for redistricting reform. Hosted by the League of Women Voters New Mexico President, Hannah Burling.
Report of the New Mexico First Redistricting Task Force
Read the Task Force's report here: Redistricting Taskforce in New Mexico.
Redistricting Educational Resources
Video: Two NM Senators Speak on Redistricting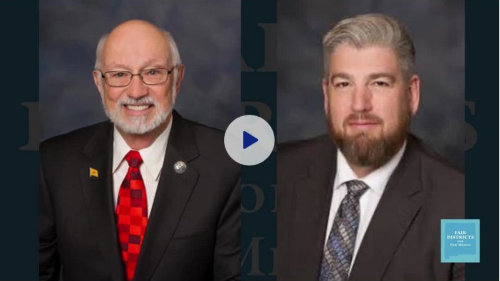 Video: Redistricting in New Mexico: A Troubled History & Opportunities for Change
Writer and reporter Gwyneth Doland, of New Mexico In Depth, speaks about the historical aspects of redistricting in New Mexico, how they impact redistricting today, and what we might expect in redistricting 2021. Doland is the author of Redistricting NM 2021; A troubled history and opportunities for change.
View the video of our webinar on Redistricting in New Mexico.
Research & Polling presentation to New Mexico Legislative Council
Research & Polling presentation to New Mexico Legislative Council (PDF, 1.5M) from January 19, 2021.
2020 New Mexico Redistricting Survey
Results of a poll on public views on redistricting reform by UNM Center for Social Policy. In some cases the presentation compares the public views with those who applied to be on the Redistricting Task Force:
2020 New Mexico Redistricting Survey.
Resources for Action
Downloadable Articles and Info.
Themes for Op/Eds and Letters to the Editor.
You can get legislator contact information from the New Mexico League of Women Voters.
Links